EVENT OUTLINE
TERM
Sat.May 2,2020 - Sun.May 24,2020(23days)
【Golden Stage】
Sat.May 2 - Wed.May 6 (5days/9:00 - 21:00)
【Second Stage】
Thu.May 7 - Sun.May 24 (18days/9:00 - 17:00)

PLACE
Specially setup site in Sakyu no Mori Kinpou
Takahashi, Kinpou-cho, Minamisatsuma-City
ENTRANCE TICKET
[Golden Stage]
Adult: ¥1,000
Elementary and junior high school students: ¥500
[Second Stage]
Adult: ¥500
Elementary and junior high school students: ¥300
THEME OF SCULPTURE
Sandy-kun and World of sports.
HOST ORGANIZATION

Fukiagehama Sand & Flower Festa Executive Committee
Minamisatsuma City
Minaminihon Broadcasting Co.,Ltd (MBC)
Minami-Nippon Shimbun Co.,Ltd
Japan Sand Art Federation
SAND & FLOWER FESTA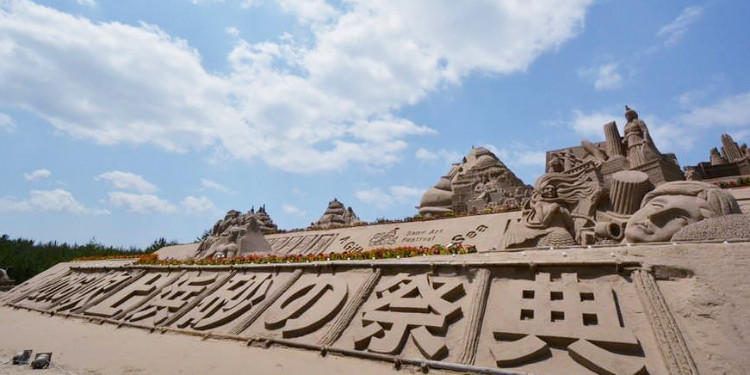 SAND & FLOWER FESTA at Fukiagehama is held in Minamisatsuma, which is located at the southern end of Mainland Kyushu in Japan.
The first Festa was held in 1987. The event was designed with passion for town renewal by utilizing local beautiful sand beach.
In order to exhibit art work of high levels, relevant groups of Japan Sand Art Federation and professional sand artists in the world are invited to the Festa. It has become the biggest sand art festa with 100,000 or more visitors during a session.
Sakyu no Mori Kinpou, a main site of the Festa, is located in Fukiagehama which is facing the East-China Sea and counted as one of the Japan's three biggest dune.
Our aim is to renew our understanding on the importance of the nature and the environment by utilizing the sand of Fukiagehama and to make the event worthy for the 21st century in which the human beings and the nature are harmonized well.
HIGHLIGHT OF SAND & FLOWER FESTA AT FUKIAGEHAMA
1.Powerful and precisely carved sand sculpture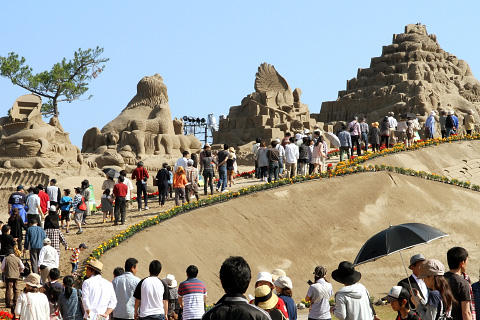 Beside the gigantic main sand sculptures (8m~3m), almost 100 sand sculptures are located in the site.
Not only the scale but the precise expression should be highlighted.
You will enjoy the artistic sand sculptures by high level sand artists invited from all over world.
2.CO-ACTING OF SAND SCULPTURE AND FLOWER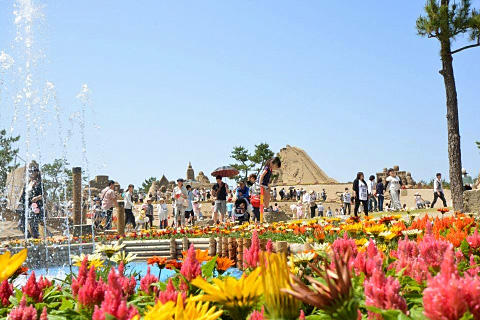 10,000 or more of seasonal flowers give pomposity to the site.
Flowers with many different colors will give the atmosphere to the site making it like a roofless art museum.
You will enjoy the co-acting of gigantic sand sculptures and spring flowers.
3.SOUND & LIGHT FANTASY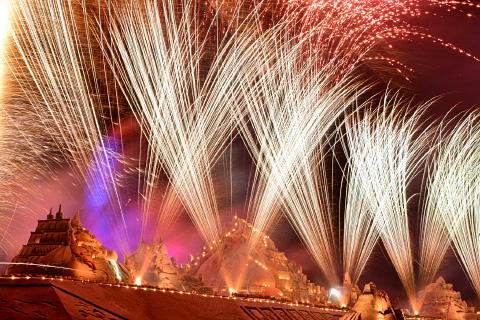 This is the main program shown every night during the Golden Stage term every year.
Many visitors are fascinated by lightings, fire works and dramatic sounds performed over the sand sculptures presuming as a stage.
You should not miss such a dramatic and exciting performance!
4.SAND SCULPTURES ARE LIT UP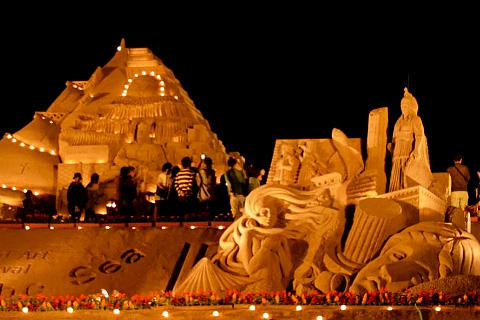 The sand sculptures are lit up in the night during the Golden Stage term.
The gallery with 15,000 LED lights will create a more romantic world.
You will enjoy another aspect of the sculptures different from that of daytime.
5.EVENT & WORK EXPERIENCE ZONE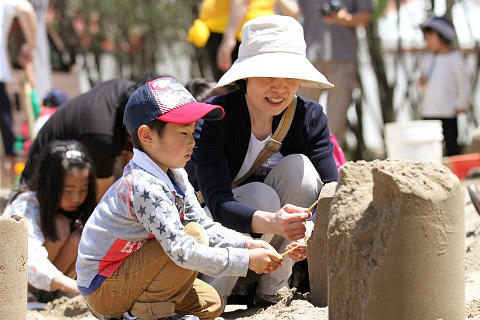 Various work experience programs such as sand carving, star watching are scheduled beside the stage shows every day.
Event utilizing local resources, stamp rally and more attractive programs are scheduled.
You will enjoy, play and learn not only by yourself but as a family all the day.
6.FOOD, DRINK, PRODUCE ZONE /MARCHE ZONE/EXHIBITION ZONE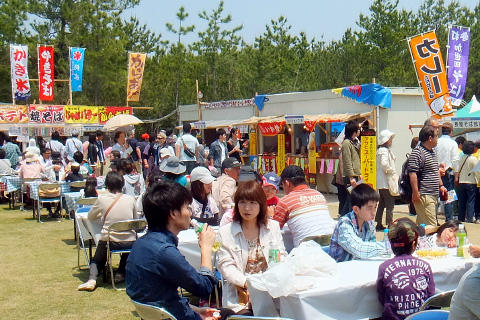 You will enjoy specialties of Minamisatsuma at FOOD, DRINK, PRODUCE ZONE in the site.
Hand craft and workshop are scheduled at MARCHE ZONE.
EXHIBITION ZONE is extensive for a family with various exhibition sections for learning.